Gadang Grand Clock (Jam Gadang) in Guguk Panjang Sub-District, Indonesia
---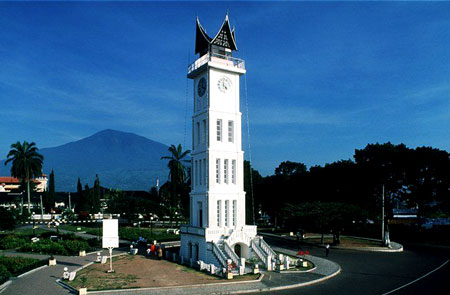 A famous city like Bukittinggi should become everyone's choice when it comes to holidays. Why is that? It is the home to various interesting landmarks and natural attractions. One of them resides in Guguk Panjang Sub-District called Gadang Grand Clock. The locals call it "Jam Gadang", actually. It is located in Benteng Pasar Atas and has been attracting lots of tourists as the time goes by. The reason is none other than its grandiose size and unique design. Also, it features a park where tourists can spend good times with friends and families during the visit.
The Nuance
In terms of size, Gadang Grand Clock or Jam Gadang is definitely big. It has the height of 26 meters and it resides in an area of 13 x 4 meters. The structure consists of several levels, and the top level becomes the home of the pendulum. What is more? Another unique fact is that it has features 4 big clocks having the diameter of 80 cm. Not to mention these clocks were imported from Rotterdam. These even have a mechanical system that is similar to that of London's Big Ben! What is more? This structure was built without any cement and iron buffers at all! Instead, it used the mixture of egg whites, limestone, and white sand.
Exploring Gadang Grand Clock or Jam Gadang
The prime function of Gadang Grand Clock is indeed as a public timepiece. It even becomes a landmark of Bukittinggi. However, these days, the clock has been visited by tourists due to its uniqueness. Plus, the local government has enlarged the park that resides on the site in order to accommodate more visitors. When it is about the best time to visit the site, it is in the afternoon or after work. People usually gather in the park and hang out with their friends there.
Aside from hanging out, visitors can even learn the history of this fabulous clock. It is said the construction finished in 1926 and it was built by the order of the Dutch's Queen. She gave the clock to her loyal secretary of Fort de Kock back then, named Rook Maker. The architect was a local person and his name is Yazid Abidin Rajo Mangkuto. At the time, the construction took lots of budgets and involved many constructors as well.
As the time went by, people who live outside Bukittinggi recognized such uniqueness and wanted to watch it directly. This explains why tourists keep coming to the site these days. They want to take pictures of the clock as well as to learn such interesting history, after all.
Nearby Attractions
Jenjang Gudang
Bung Hatta Monument
Bung Hatta Palace
Atas Market
How to Get There
From Padang City (the capital of West Sumatra Province) in Indonesia, tourists can take any local transportation service and head to Guguk Panjang Sub-District in Bukittinggi City. The distance is 95.2 km, so it takes about 2 hours and 30 minutes to get to the location. For a faster trip, tourists should take Lintas Barat Sumatra Street.
Where to Stay
Antokan Hotel
Jogja Hotel
Grand Gallery Hotel
Imran Hotel
Primadini Hotel
Grand Kartini Hotel

Latest News
What do tourists know about Bukittinggi City? Well, most of them recognize it as the capital of West Sumatra Province belongs to Indonesia. Some of them are even aware of its tourism potential, so they keep coming to the region over time, especially during long holidays. Not only it becomes the governmental center of West Sumatra, the city was once the capital of West Sumatra and Sumatra Province! Moreover, in the past, it was called Fort de Kock and known as the birthplace of a famous person named Mohammad Hatta…
---
  Langkisau peak tourism object is located at the edge of the koto Painan with a height of about 500 meters above sea level and it offers an inspiring beauty. Langkisau peak is an area of excellent Pessel which have tourism potential that should be developed, because this area is at a height so that people who visit will be able to see the beautiful scenery and fascinating about the city Painan and Sago District IV of Jurai. At night, will be more lively enchanted by beautiful night scenery that…
---
  Siberut Island Becomes part of Mentawai Islands, Siberut is the largest island at the northernmost and becomes the main important island for Mentawai People.  The Mentawai tribe still maintains the lifestyle and traditions passed down from their ancestors from thousands of years ago. They live in houses locally called 'uma', made from wooden scaffolds which house contains several families each. Siberut is located in the Indian Ocean, approximately 100 km off the west coast of West Sumatra, and separated from the main island by the Mentawai Strait. The island…
---
Sawahlunto is one of provinces in Indonesia, precisely in West Sumatera, Indonesia. This town is located in 95KM Northeast of Padang and surrounded by 3 districts in West Sumatera, which is Tanah Datar, Solok and Sijunjung. Sawahlunto is divided into 4 sub-districts and it has 273,45 km², with populated by 54.000 people. During Dutch civilization, Sawahlunto was popular as coal mining town. After being a death town, during the closing of the mining, Sawahlunto nowadays becomes the growing city with multi-ethnicity inside the community, and awarded as the best old…
---