Kantin Square in Aur Birugo Tigo Baleh Sub-District, Indonesia
---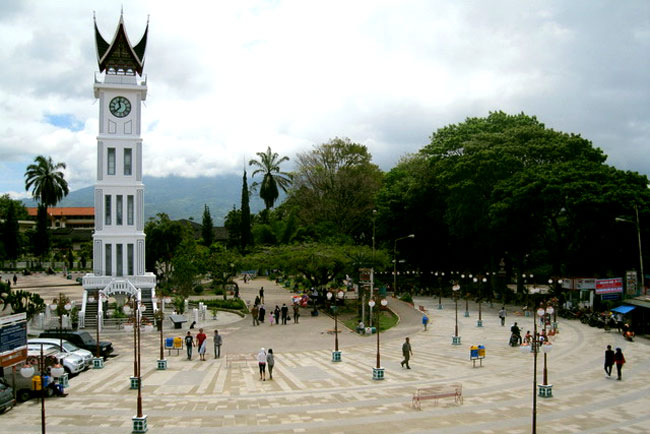 Almost all big cities own a square or public field, including Bukittinggi City. Those who live or have ever visited such region are indeed familiar with Kantin Square, without a doubt. Most people come to this site to exercise and gather with families on the weekends usually. The location is in Sapiran Village and it belongs to Aur Birugo Tigo Baleh Sub-District. The good thing is that the square has an easy accessibility, so everyone can get to the field without any problems. Aside from exercising, visitors often use the site to spend a romantic moment with their lover!
The Nuance
The official name is Kodim 0304 Field. It gets the name due to the location that is a military district commander, which resides in front of it. Another name is Wirabraja Sports Field! In terms of nuance, the field looks quiet during working days but it becomes merrier due to the presence of visitors and tourists. The most crowded times are indeed in the morning and afternoon when the atmosphere is more comfortable to do activities like exercising, marathon, hanging out, etc.
Exploring Kantin Square
Not many outsiders recognize how important Kantin Square is, either for villagers or tourists. In terms of nuance, it looks neat and clean due to a good management of Wirabraja KOREM 032. No wonder, visitors would feel comfortable when spending time on this site. Most of the time, people come to the square for exercising either in the afternoon or morning. These include gymnastics, climbing, basketball, marathon, etc. Due to the presence of those sports enthusiasts, the square got another name which is Wirabraja Sports Field! Even elders are often seen there doing some therapy like walking on gravel paths.
What is next? Aside from being a recommended place for doing sports, Kantin Square is chosen as the spot to conduct various events or big ceremonies. These include the independence ceremony, concerts, national exhibitions, and numerous local performances. Not to mention Muslims use the field to conduct Shalat I'ed during Eid Al-Fitr. For tourists, though, they need to come at the right time if they want to witness those interesting events. It is easy if they take advantage of a tour agent in order to get thorough information regarding those ceremonies.
Now, it's the time to talk about the rules. All visitors must not litter or spoil the environment during the visit. It is true that Kantin Square is well-managed, but everyone should try to keep the environment clean at all cost! Carrying and eating snacks are allowed as long as they take care of the trash later.
Nearby Attractions
Monkey Land
Jugs and Arts Museum
Janjang Koto Gadang
How to Get There
For those coming from Padang City, they can get to Bukittinggi City right away by any local transportation service. Once getting there, the next destination is Aur Birugo Tigo Baleh Sub-District and head to Sapiran Village afterward. The field resides near to Kodim 0304, so it is quite easy to notice. Actually, the whole trip may take around 2 hours and 28 minutes as the distance is 93.9 km. As for the best route, it is Lintas Barat Sumatera Street.
Where to Stay
Citra Hotel
Sakato Hotel
Bagindo Hotel
Agung Hotel

Latest News
What do tourists know about Bukittinggi City? Well, most of them recognize it as the capital of West Sumatra Province belongs to Indonesia. Some of them are even aware of its tourism potential, so they keep coming to the region over time, especially during long holidays. Not only it becomes the governmental center of West Sumatra, the city was once the capital of West Sumatra and Sumatra Province! Moreover, in the past, it was called Fort de Kock and known as the birthplace of a famous person named Mohammad Hatta…
---
  Langkisau peak tourism object is located at the edge of the koto Painan with a height of about 500 meters above sea level and it offers an inspiring beauty. Langkisau peak is an area of excellent Pessel which have tourism potential that should be developed, because this area is at a height so that people who visit will be able to see the beautiful scenery and fascinating about the city Painan and Sago District IV of Jurai. At night, will be more lively enchanted by beautiful night scenery that…
---
  Siberut Island Becomes part of Mentawai Islands, Siberut is the largest island at the northernmost and becomes the main important island for Mentawai People.  The Mentawai tribe still maintains the lifestyle and traditions passed down from their ancestors from thousands of years ago. They live in houses locally called 'uma', made from wooden scaffolds which house contains several families each. Siberut is located in the Indian Ocean, approximately 100 km off the west coast of West Sumatra, and separated from the main island by the Mentawai Strait. The island…
---
Sawahlunto is one of provinces in Indonesia, precisely in West Sumatera, Indonesia. This town is located in 95KM Northeast of Padang and surrounded by 3 districts in West Sumatera, which is Tanah Datar, Solok and Sijunjung. Sawahlunto is divided into 4 sub-districts and it has 273,45 km², with populated by 54.000 people. During Dutch civilization, Sawahlunto was popular as coal mining town. After being a death town, during the closing of the mining, Sawahlunto nowadays becomes the growing city with multi-ethnicity inside the community, and awarded as the best old…
---